Telfa AMD Antimicrobial Non-Adherent Pad, 3 Inches x 4 Inches, Rectangle, White, Sterile, 1 Count, #7662-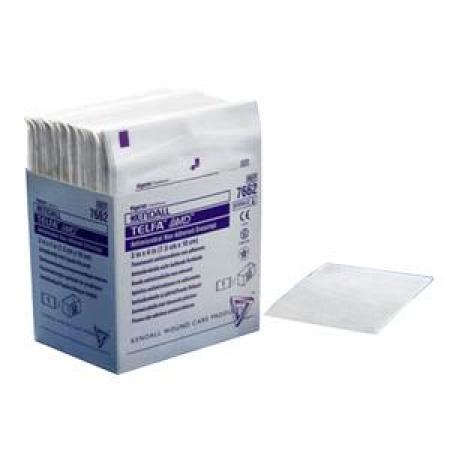 Telfa AMD Antimicrobial Non-Adherent Pad, 3 Inches x 4 Inches, Rectangle, White, Sterile, 1 Count, #7662-
$0.45
Product Details
Features
Dimensions
Q&A
Telfa AMD Antimicrobial Non-Adherent Pads are impregnated with PHMB (Polyhexamethylene Biguanide) which is a powerful yet safe antiseptic with a broad range effectiveness against gram positive and gram negative microorganisms including some multi-drug resistant strains such as MRSA. These pads also resist bacterial colonization within them with helps prevent infections from growing and spreading in the pads themselves; plus, they also reduce bacterial penetration through themselves which helps minimize infection exposure from strike-through. The broad-spectrum effectiveness of these antimicrobial pads also provides protection against gram negative, gram positive, and fungi/yeast microorganisms including MRSA and VRE which helps reduce the risk of hospital acquired infection and limits cross-contamination from patient to patient, patient to clinician, and patient to the environment.
UOM : EA
UPC : 0694393038599
Application : PHMB Impregnated Dressing
Color : White
COO_1 : Unknown
Dimensions : 3 X 4 Inch
HCPCS : A6222
Impregnated Ingredients : PHMB (Polyhexamethylene Biguanide)
Material : Non-adherent Material
Prop 65 Warning : WARNING: Cancer and Reproductive Harm - www.P65War
Shape : Rectangle
Size : 3 Inches x 4 Inches
Sterility : Sterile
Strength : 0.2% Strength
UNSPSC Code : 42311545
MPN: 7662-
SKU: 100272
Item ID: 100272
Weight : 0.01
Width : 4.50
Height : 0.10
Depth : 6.00
When you set up your first Autoship
It's easy, select Autoship at checkout!
Set your schedule
Change or cancel delivery schedule anytime
Enjoy extra savings 5% off of applicable products on each re-order after your 1st
*Discount automatically applied when Autoship is selected at checkout. No coupons necessary.
*By placing your order, you agree to Honestmed.com's Privacy Policy and Terms & Conditions.