McKesson Ultra Brief, 2X-Large, Adult, Unisex, 63 to 69 In. Waist/Hip, Green, Disposable, Heavy Absorbency, 48 Count, #BRULXXL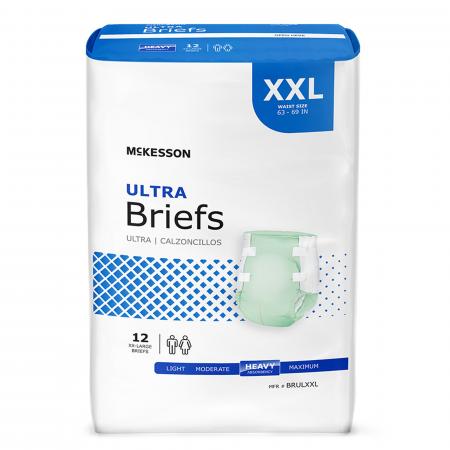 McKesson Ultra Brief, 2X-Large, Adult, Unisex, 63 to 69 In. Waist/Hip, Green, Disposable, Heavy Absorbency, 48 Count, #BRULXXL
$47.30
Product Details
Features
Dimensions
Q&A
McKesson Ultra Briefs are designed with a cloth back that emulates regular underwear and feature a cloth-like outer fabric and a sophisticated sectioning system, so they provide great incontinence protection. These soft and comfortable adult briefs work great for anyone in need of a heavy absorbency brief. They are economical, comfortable, and most importantly absorbent. They are specially designed to comfortably contain both urinary and fecal incontinence. These incontinence briefs are completely disposable, unisex (designed for both men and women), and use a premium acquisition layer that rapidly absorbs fluid into the core; the advanced dual-core locks wetness away and reduces pH of urine for improved odor control and skin wellness while the four soft, flexible hook and loop tabs can refasten anywhere on the brief.
UOM : CS
UPC : 40612479190281
Absorbency : Heavy
Application : Incontinence Brief
Backing Material : Cloth-Like Backing
Color : Green
Fastening Type : Hook and Loop Closure
Gender : Unisex
HCPCS : A4520
Latex Free Indicator : Not Made with Natural Rubber Latex
Leg Style : Elastic Gathers
Size : 2X-Large
Sizing Range : 63 to 69 Inch Waist / Hip
Style : Tab Closure
Topsheet Material : Nonwoven Topsheet
Type : Contoured
UNSPSC Code : 53102306
Usage : Disposable
User : Adult
MPN: BRULXXL
SKU: 100988
Item ID: 100988
Weight : 11.00
Width : 10.40
Height : 14.20
Depth : 16.00
When you set up your first Autoship
It's easy, select Autoship at checkout!
Set your schedule
Change or cancel delivery schedule anytime
Enjoy extra savings 5% off of applicable products on each re-order after your 1st
*Discount automatically applied when Autoship is selected at checkout. No coupons necessary.
*By placing your order, you agree to Honestmed.com's Privacy Policy and Terms & Conditions.