Bismoline Medicated Powder, Talc/Boric Acid/Zinc Oxide, Lightly Scented, 7.25 ounce Shaker Bottle, #01270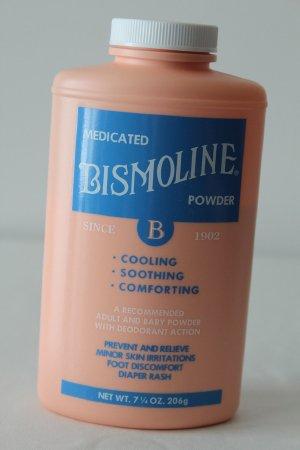 Bismoline Medicated Powder, Talc/Boric Acid/Zinc Oxide, Lightly Scented, 7.25 ounce Shaker Bottle, #01270
$4.83
Product Details
Features
Dimensions
Q&A
Bismoline Medicated Powder is designed to coat skin with a protective film that aids in the prevention and relief of minor skin irritations and may be used for diaper rash, adult rashes, prickly heat, chafing, urine burns, athlete's foot ,and as a deodorant.
UOM : EA
UPC : 0019134012704
Active Ingredients : Talc / Boric Acid / Zinc Oxide
Application : Body Powder
Container Type : Shaker Bottle
COO_1 : Unknown
Product Dating : McKesson Acceptable Dating: we will ship >= 180 days
Scent : Lightly
Size : 7.25 ounces
UNSPSC Code : 53131649
Volume : 7-1/4 oz.
MPN: 01270
SKU: 100954
Item ID: 100954
Weight : 0.60
Width : 2.80
Height : 6.60
Depth : 3.20
When you set up your first Autoship
It's easy, select Autoship at checkout!
Set your schedule
Change or cancel delivery schedule anytime
Enjoy extra savings 5% off of applicable products on each re-order after your 1st
*Discount automatically applied when Autoship is selected at checkout. No coupons necessary.
*By placing your order, you agree to Honestmed.com's Privacy Policy and Terms & Conditions.