McKesson Skin Protectant A&D OINTMENT, A&D OINTMENT Unscented, 5 gram Foil Packet, 144 Count, #118-8744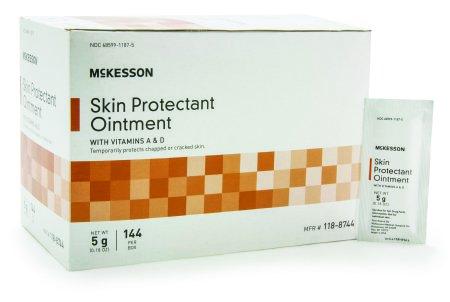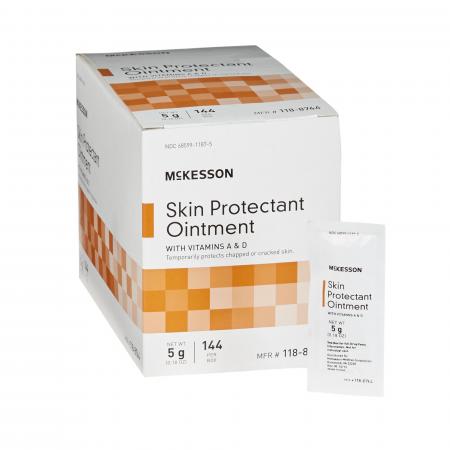 McKesson Skin Protectant A&D OINTMENT, A&D OINTMENT Unscented, 5 gram Foil Packet, 144 Count, #118-8744
$8.16
Product Details
Features
Dimensions
Q&A
Use McKesson Skin Protectant Ointment to temporarily soothe and moisturize skin; temporarily relieve minor cuts, scrapes, and burns; protect and help relieve chapped or cracked skin and lips; and/or help protect from the effects of wind and cold weather. This ointment is formulated with Vitamins A & D and white petrolatum to create a protective barrier and help seal out wetness. It also applies easily and smoothly, and its fragrance-free formula is ideal for sensitive skin.
UOM : BX
UPC : 10612479182070
Active Ingredients : White Petrolatum
Application : Skin Protectant
Container Type : Individual Packet
COO_1 : United States
Form : Ointment
HCPCS : A6250
Latex Free Indicator : Not Made with Natural Rubber Latex
NDC Number : 68599118705
Product Dating : McKesson Acceptable Dating: we will ship >= 180 days
Scent : Unscented
Size : 5 grams
Strength : 93.5% Strength
UNSPSC Code : 53131607
Volume : 5 Gram
MPN: 118-8744
SKU: 101044
Item ID: 101044
Weight : 2.00
Width : 4.00
Height : 5.00
Depth : 7.30
When you set up your first Autoship
It's easy, select Autoship at checkout!
Set your schedule
Change or cancel delivery schedule anytime
Enjoy extra savings 5% off of applicable products on each re-order after your 1st
*Discount automatically applied when Autoship is selected at checkout. No coupons necessary.
*By placing your order, you agree to Honestmed.com's Privacy Policy and Terms & Conditions.