Embrace PRO Blood Glucose Test Strips, For Embrace Blood Glucose System, Small Sample Size, Auto Coding, #ALL02AM0202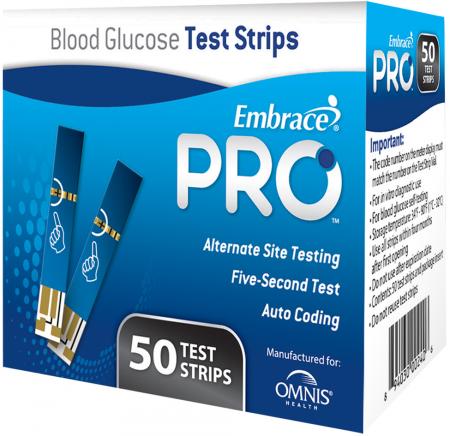 Embrace PRO Blood Glucose Test Strips, For Embrace Blood Glucose System, Small Sample Size, Auto Coding, #ALL02AM0202
$7.25
Product Details
Features
Dimensions
Q&A
Embrace PRO Blood Glucose Test Strips feature a gold electrode and provide accurate results with 5 seconds; plus, they are auto coding; require only a small, 0.5 microliter sample size; and are ideal for alternate site testing.
UOM : BX
UPC : 8-94030-00240-6
Application : Blood Glucose Test Strips
COO_1 : South Korea
For Use With : For Embrace Blood Glucose System
Number per Pack : 50 Strips per Box
Specifications : sample size , 0.5 Microliter
UNSPSC Code : 41116215
MPN: ALL02AM0202
SKU: 100186
Item ID: 100186
Weight : 0.10
Width : 2.75
Height : 1.75
Depth : 3.00
When you set up your first Autoship
It's easy, select Autoship at checkout!
Set your schedule
Change or cancel delivery schedule anytime
Enjoy extra savings 5% off of applicable products on each re-order after your 1st
*Discount automatically applied when Autoship is selected at checkout. No coupons necessary.
*By placing your order, you agree to Honestmed.com's Privacy Policy and Terms & Conditions.