Citrus II Surface Disinfectant Cleaner, 22 Oz, Pump Spray Bottle, Original Scent, Liquid, Non-Sterile, 1 Count, #633712927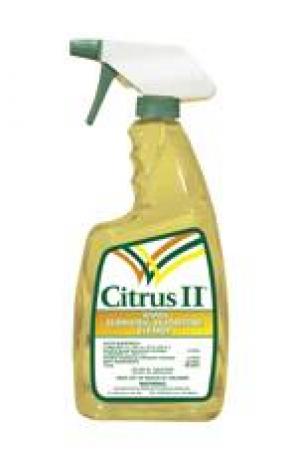 Citrus II Surface Disinfectant Cleaner, 22 Oz, Pump Spray Bottle, Original Scent, Liquid, Non-Sterile, 1 Count, #633712927
$5.65
Product Details
Features
Dimensions
Q&A
EPA-Registered Citrus II Germicidal Deodorizing Cleaner is designed as a tough-as-nails germ fighter. It's a non-acid (safe on surfaces), ready-to-use cleaner and disinfectant with the added plus of a refreshing citrus or calming lavender scent. In other words, it really kicks butt and smells good too! For over 20 years, the Citrus II family of products has been keeping people safe and protected in hospitals, clinics, physician Offices, nursing homes and home care settings around America.
UOM : EA
UPC : 0087052129279
Active Ingredients : Alkyl Dimethyl Benzyl Ammonium Chloride
Application : Surface Disinfectant Cleaner
Container Type : Bottle
Dispensing Method : Pump Spray
Form : Liquid
Prop 65 Warning : WARNING: Cancer and Reproductive Harm - www.P65War
Scent : Original
Sterility : NonSterile
Type : Germicidal
UNSPSC Code : 47131816
Usage : Disposable
Volume : 22 oz.
MPN: 633712927
SKU: 100900
Item ID: 100900
Weight : 1.66
Width : 4.50
Height : 2.00
Depth : 11.00
When you set up your first Autoship
It's easy, select Autoship at checkout!
Set your schedule
Change or cancel delivery schedule anytime
Enjoy extra savings 5% off of applicable products on each re-order after your 1st
*Discount automatically applied when Autoship is selected at checkout. No coupons necessary.
*By placing your order, you agree to Honestmed.com's Privacy Policy and Terms & Conditions.