Calmoseptine Ointment, 0.44% Menthol, 20.6% Zinc Oxide, 2.5 Oz, Jar, Scented, 12 Count, #00799000103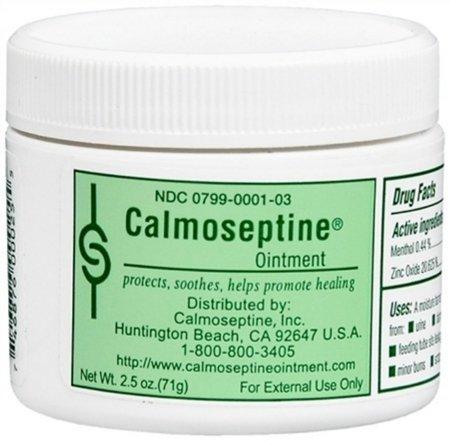 Calmoseptine Ointment, 0.44% Menthol, 20.6% Zinc Oxide, 2.5 Oz, Jar, Scented, 12 Count, #00799000103
$78.91
Product Details
Features
Dimensions
Q&A
Calmoseptine Ointment is a multipurpose moisture barrier that temporarily relieves discomfort and itching. It contains calamine, zinc oxide, menthol, and lanolin and acts as a barrier to protect the skin and draw away moisture, This ointment helps to heal skin irritations from incontinence, feeding tube leakage, scrapes, fecal or vaginal fistulas, wound drainage, and diaper rash.
UOM : CS
UPC : 746876000262
Active Ingredients : Menthol / Zinc Oxide
Application : Skin Protectant
Container Type : Jar
COO_1 : United States
Form : Ointment
HCPCS : A6250
NDC Number : 00799000103
Product Dating : Expiration date listed on packaging
Scent : Scented
Size : 2.5 ounces
Strength : 0.44% - 20.625% Strength
UNSPSC Code : 53131607
Volume : 2.5 oz.
MPN: 00799000103
SKU: 100859
Item ID: 100859
Weight : 3.00
Width : 7.80
Height : 3.00
Depth : 10.60
When you set up your first Autoship
It's easy, select Autoship at checkout!
Set your schedule
Change or cancel delivery schedule anytime
Enjoy extra savings 5% off of applicable products on each re-order after your 1st
*Discount automatically applied when Autoship is selected at checkout. No coupons necessary.
*By placing your order, you agree to Honestmed.com's Privacy Policy and Terms & Conditions.