TENA Sensitive Care Pads, Adult, Female, White, Heavy Absorbency, Disposable, One Size Fits Most (16 In. Length), 99 Count, #54305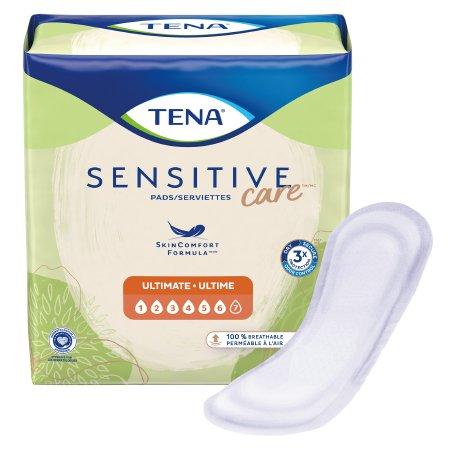 TENA Sensitive Care Pads, Adult, Female, White, Heavy Absorbency, Disposable, One Size Fits Most (16 In. Length), 99 Count, #54305
$61.16
Product Details
Features
Dimensions
Q&A
Elevate your incontinence care with TENA Sensitive Care Ultimate Pads, now featuring the innovative SkinComfort Formula, designed to safeguard sensitive and intimate skin. With a unique Skin Friendly Layer, 100% breathable materials, and soft textures, these pads offer unparalleled comfort while providing triple protection against bladder leaks, urine odor, and wetness. Boasting a dermatological seal of approval from the Skin Health Alliance, TENA's commitment to skin well-being is unparalleled. These pads, equipped with a super-absorbent core, offer continuous and heavy bladder leakage protection, catering to stress and surge incontinence. Specifically crafted for women experiencing post-partum incontinence, TENA Sensitive Care Ultimate Pads are your reliable companion for staying dry, fresh, and comfortable. Prioritize your intimate well-being with TENA's superior incontinence protection.
UOM : CS
UPC : 10768702543054
Absorbency : Heavy
Absorbent Core Material : Dry-Fast Core
Application : Bladder Control Pad
Backsheet Color : White Backsheet
Backsheet Material : Cloth-Like Backsheet
Color : White
Dimensions : 16 Inch Length
Gender : Female
Size : One Size Fits Most (16 Inch Length)
Topsheet Color : White Topsheet
Topsheet Material : Quick-Dry Topsheet
Type : Regular Length
UNSPSC Code : 53131615
Usage : Disposable
User : Adult
MPN: 54305
SKU: 100885
Item ID: 100885
Weight : 9.80
Width : 11.40
Height : 12.80
Depth : 15.20
When you set up your first Autoship
It's easy, select Autoship at checkout!
Set your schedule
Change or cancel delivery schedule anytime
Enjoy extra savings 5% off of applicable products on each re-order after your 1st
*Discount automatically applied when Autoship is selected at checkout. No coupons necessary.
*By placing your order, you agree to Honestmed.com's Privacy Policy and Terms & Conditions.