Tranquility Bariatric Briefs, Adult, 3X-Large, 64 to 96 In Waist/Hip, White, Unisex, Refastenable Tabs, Disposable, Heavy Absorbency, 8 Count, #2190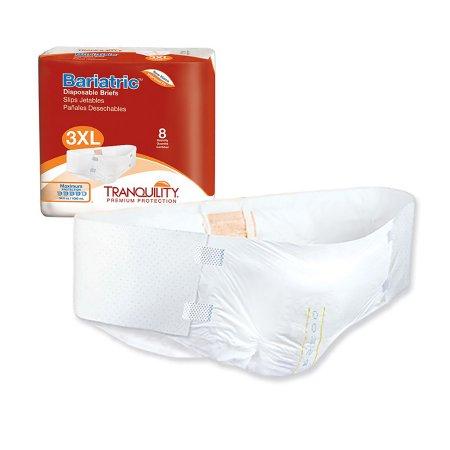 Tranquility Bariatric Briefs, Adult, 3X-Large, 64 to 96 In Waist/Hip, White, Unisex, Refastenable Tabs, Disposable, Heavy Absorbency, 8 Count, #2190
$15.49
Product Details
Features
Dimensions
Q&A
Tranquility Bariatric Briefs are full-fit briefs which feature a soft, cloth-like outer layer that is gentle against sensitive skin. The breathable, stretchy side panels comfortably fit up to a 96 inch waist, and the peach absorbent core protects sensitive skin and guarantees skin dryness, odor reduction, and urine pH neutralization. Wide, micro-hook closure tabs grip the brief securely while still allowing for multiple openings, and these briefs also features dual wetness indicators; Kufguards (inner leg cuffs); and elastic leg gathers.
UOM : BG
UPC : 070319021904
Absorbency : Heavy
Application : Incontinence Brief
Backing Material : Cloth-Like Backing
Color : White
Fastening Type : Refastenable Tabs
Gender : Unisex
HCPCS : A4520
Leg Style : Inner Leg Cuffs
Size : 3X-Large
Sizing Range : 64 to 96 Inch Waist / Hip
Style : Tab Closure
Topsheet Material : Cloth-Like Topsheet
Type : Bariatric
UNSPSC Code : 53102306
Usage : Disposable
User : Adult
MPN: 2190
SKU: 100452
Item ID: 100452
Weight : 1.00
Width : 1.00
Height : 1.00
Depth : 1.00
When you set up your first Autoship
It's easy, select Autoship at checkout!
Set your schedule
Change or cancel delivery schedule anytime
Enjoy extra savings 5% off of applicable products on each re-order after your 1st
*Discount automatically applied when Autoship is selected at checkout. No coupons necessary.
*By placing your order, you agree to Honestmed.com's Privacy Policy and Terms & Conditions.