Tranquility ATN Briefs, Adult, Small, Heavy Absorbency, Dispable, 24 to 32 Inch Waist / Hip, Bag of 10, #2184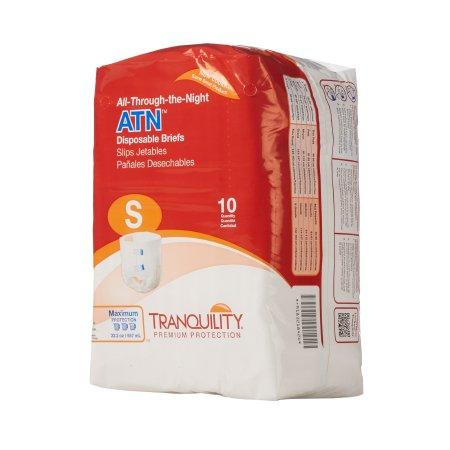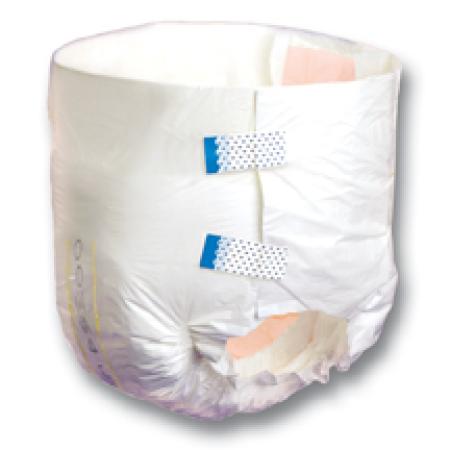 Tranquility ATN Briefs, Adult, Small, Heavy Absorbency, Dispable, 24 to 32 Inch Waist / Hip, Bag of 10, #2184
$7.92
Product Details
Features
Dimensions
Q&A
Tranquility ATN (All-Through-the-Night) Briefs are a maximum capacity disposable brief, so individuals can sleep all-through-the-night or 6-8 hours uninterrupted by garment changes without compromising skin integrity. Their peach core contains superabsorbent polymers which guarantee skin dryness, odor reduction, pH neutralization of urine, and inhibition of bacterial growth while Kufguards (inner leg cuffs) channel fluids into the core thus helping to contain high volume urge episodes and bowel incontinence.
UOM : BG
UPC : 070319021843
Absorbency : Heavy Absorbency
Application : Incontinence Brief
Backing Material : Cloth-Like Backing
Color : White
Fastening Type : Refastenable Tape Tabs
Gender : Unisex
HCPCS : T4521
Leg Style : Inner Leg Cuffs
Size : Small
Sizing Range : 24 to 32 Inch Waist / Hip
Style : Tab Closure
Topsheet Material : Cloth-Like Topsheet
Type : Overnight
UNSPSC Code : 53102306
Usage : Disposable
User : Adult
MPN: 2184
SKU: 100798
Item ID: 100798
Weight : 1.80
Width : 6.00
Height : 10.80
Depth : 6.80
When you set up your first Autoship
It's easy, select Autoship at checkout!
Set your schedule
Change or cancel delivery schedule anytime
Enjoy extra savings 5% off of applicable products on each re-order after your 1st
*Discount automatically applied when Autoship is selected at checkout. No coupons necessary.
*By placing your order, you agree to Honestmed.com's Privacy Policy and Terms & Conditions.