Always Discreet Underwear, Adult, Female, Pull-on with Tear Away Seams, Disposable, Heavy Absorbency, X-Large, #03700088761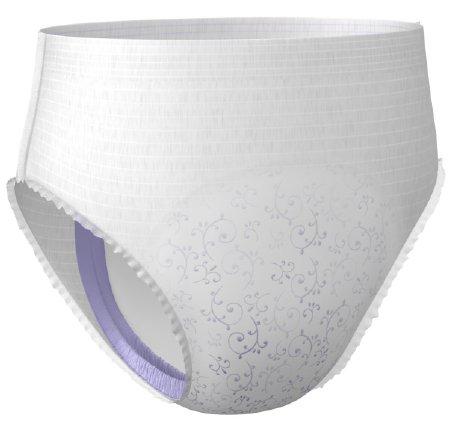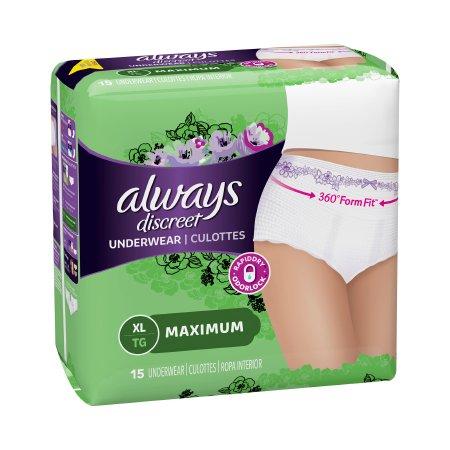 Always Discreet Underwear, Adult, Female, Pull-on with Tear Away Seams, Disposable, Heavy Absorbency, X-Large, #03700088761
$22.33
Product Details
Features
Dimensions
Q&A
Always Discreet Underwear have an advanced Triple Layer Core that helps pull, trap, and lock away urine wetness and odor while their OdorLock technology neutralizes urine odors instantly and continuously, helping keep your overactive bladder discreet. The soft Dual LeakGuards help prevent overactive bladder leaks where they happen most - at the legs, and the soft cotton-like waistband is designed for comfortable incontinence protection.
UOM : PK
UPC : 037000887614
Absorbency : Heavy
Application : Absorbent Underwear
Backing Material : Cloth-Like Backing
Color : White
Gender : Female
Leg Style : Form Fitting Legs
NDC Number : 03700088761
Size : X-Large
Sizing Range : 48 to 64 Inch Waist / Hip
Style : Pull On with Tear Away Seams
UNSPSC Code : 53102303
Usage : Disposable
User : Adult
MPN: 03700088761
SKU: 100739
Item ID: 100739
Weight : 2.20
Width : 5.90
Height : 5.90
Depth : 18.20
When you set up your first Autoship
It's easy, select Autoship at checkout!
Set your schedule
Change or cancel delivery schedule anytime
Enjoy extra savings 5% off of applicable products on each re-order after your 1st
*Discount automatically applied when Autoship is selected at checkout. No coupons necessary.
*By placing your order, you agree to Honestmed.com's Privacy Policy and Terms & Conditions.