McKesson Bed Pillow, Polyester Fill, Olefin Cover, Medium Loft, 20 x 26 In., Disposable, White, Latex Free, 1 Count, #41-2026-M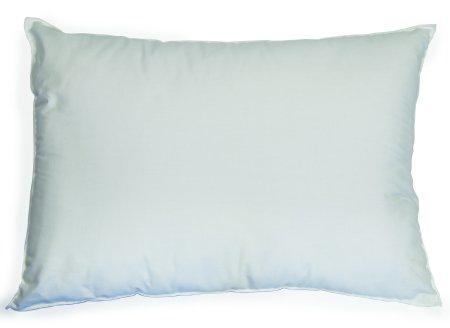 McKesson Bed Pillow, Polyester Fill, Olefin Cover, Medium Loft, 20 x 26 In., Disposable, White, Latex Free, 1 Count, #41-2026-M
$3.45
Product Details
Features
Dimensions
Q&A
McKesson Disposable Pillows provide the optimum in comfort and are great for propping up patients. A breathable cover and garnetted polyester fiberfill creates a lofty and resilient pillow. These pillows are also flame-resistant and for single patient use-making them an excellent guard against cross-contamination. Ideal for outpatient, critical care areas, and patient rooms. Not made with natural rubber latex.
UOM : EA
UPC : 125113252617
Application : Bed Pillow
Color : White
Cover Material : Olefin Cover
Dimensions : 20 X 26 Inch
Latex Free Indicator : Not Made with Natural Rubber Latex
Material : Polyester Fill/Olefin Cover
Size : 20 Inches x 26 Inches
UNSPSC Code : 42132104
Usage : Disposable
Weight : 18 oz.
MPN: 41-2026-M
SKU: 101003
Item ID: 101003
Weight : 1.11
Width : 17.50
Height : 4.00
Depth : 24.00
When you set up your first Autoship
It's easy, select Autoship at checkout!
Set your schedule
Change or cancel delivery schedule anytime
Enjoy extra savings 5% off of applicable products on each re-order after your 1st
*Discount automatically applied when Autoship is selected at checkout. No coupons necessary.
*By placing your order, you agree to Honestmed.com's Privacy Policy and Terms & Conditions.