McKesson Confiderm 3.8 Nitrile Exam Glove, X-Large, Non-Sterile, Latex-Free, Powder-Free, 100 Count, #14-690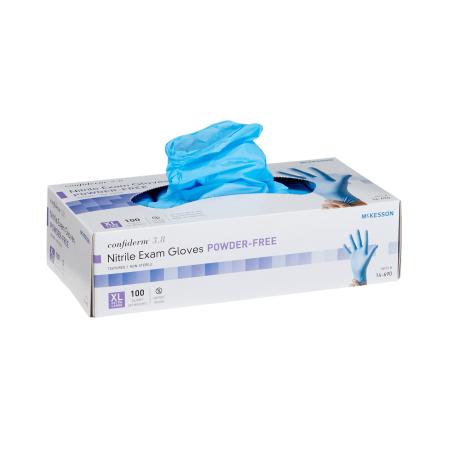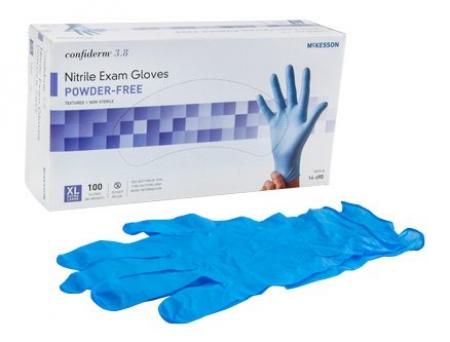 McKesson Confiderm 3.8 Nitrile Exam Glove, X-Large, Non-Sterile, Latex-Free, Powder-Free, 100 Count, #14-690
$10.31
Product Details
Features
Dimensions
Q&A
McKesson Confiderm 3.8 Nitrile Exam Gloves feature textured fingertips which provide excellent tactile sensitivity and dexterity; standard beaded cuffs; improved conformability which provides superior fit and extended wear comfort; and are powder-free.
UOM : BX
UPC : 724235201437
Application : Exam Glove
Chemo Rated : Not Chemo Approved
Color : Blue
COO_1 : Malaysia
Cuff Style : Beaded Cuff
Fingertip Thickness : 0.07 mm (2.8 mil)
Glove Exterior : Textured Fingertips
Glove Interior : Without Coating
Glove Length : Standard Cuff Length
Hand Compatibility : Ambidextrous
Latex Free Indicator : Not Made with Natural Rubber Latex
Length In Inches : 9.4 Inch
Material : Nitrile
Powder Content : Powder Free
Size : X-Large
Sterility : NonSterile
UNSPSC Code : 42132203
Usage : Single Patient Use
MPN: 14-690
SKU: 100683
Item ID: 100683
Weight : 1.20
Width : 5.00
Height : 2.80
Depth : 9.40
When you set up your first Autoship
It's easy, select Autoship at checkout!
Set your schedule
Change or cancel delivery schedule anytime
Enjoy extra savings 5% off of applicable products on each re-order after your 1st
*Discount automatically applied when Autoship is selected at checkout. No coupons necessary.
*By placing your order, you agree to Honestmed.com's Privacy Policy and Terms & Conditions.