McKesson 28 Day Glutaraldehyde High-Level Disinfectant, Liquid, Chemical Scent, 1 gallon Jug, Activation Required, Max 28 Day Reuse, #68-102800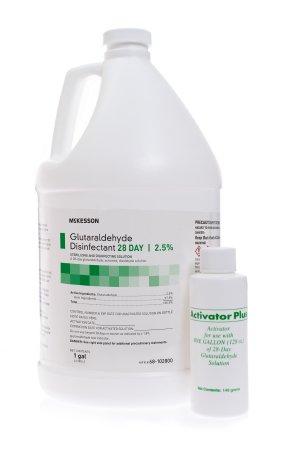 McKesson 28 Day Glutaraldehyde High-Level Disinfectant, Liquid, Chemical Scent, 1 gallon Jug, Activation Required, Max 28 Day Reuse, #68-102800
$17.90
Product Details
Features
Dimensions
Q&A
McKesson 28-Day Glutaraldehyde High-Level Disinfectant is a long life, activated, 28-day, 2.5% buffered glutaraldehyde solution that contains sodium nitrite as a corrosion inhibitor as well as surfactants. This solution is recommended for the sterilization and high level disinfection of heat-sensitive, immersible medical and dental equipment and instruments; however, it is NOT recommended for use on scopes or any instrument with a lens because of the risk of film development.
UOM : GL
UPC : 699618343823
Activation Method : Activation Required
Active Ingredients : 2.5% Glutaraldehyde
Application : Glutaraldehyde High-Level Disinfectant
Container Type : Jug
For Use With : For MetriTest 1.8% Glutaraldehyde Concentration Indicator (10-304)
Form : Liquid
Latex Free Indicator : Not Made with Natural Rubber Latex
Scent : Chemical
Size : 1 gallon
UNSPSC Code : 42281603
Usage : Max 28 Day Reuse
Volume : 1 gal.
MPN: 68-102800
SKU: 100926
Item ID: 100926
Weight : 8.90
Width : 6.00
Height : 11.80
Depth : 6.00
When you set up your first Autoship
It's easy, select Autoship at checkout!
Set your schedule
Change or cancel delivery schedule anytime
Enjoy extra savings 5% off of applicable products on each re-order after your 1st
*Discount automatically applied when Autoship is selected at checkout. No coupons necessary.
*By placing your order, you agree to Honestmed.com's Privacy Policy and Terms & Conditions.