Coloplast Critic-Aid Thick Moisture Barrier Skin Paste, 6 ounce Tube, 1 Count, #1947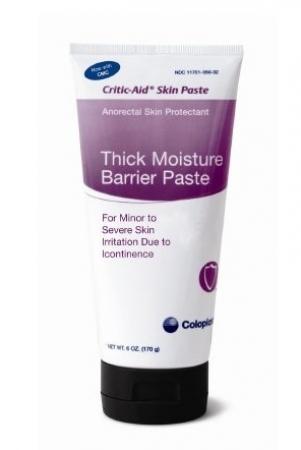 Coloplast Critic-Aid Thick Moisture Barrier Skin Paste, 6 ounce Tube, 1 Count, #1947
$12.91
Product Details
Features
Dimensions
Q&A
Coloplast Critic-Aid Thick Moisture Barrier Skin Paste is a zinc oxide skin barrier paste which conditions sensitive, inflamed, and denuded skin caused by caustic diarrhea or enzymatic drainage. It adheres to wet, weepy skin; thus, protecting it from further trauma.
UOM : EA
UPC : 796029004036
Application : Ostomy Barrier Paste
COO_1 : United States
Size : 6 ounces
Specifications : 6 oz.
UNSPSC Code : 42312105
MPN: 1947
SKU: 100587
Item ID: 100587
Weight : 0.50
Width : 3.00
Height : 1.90
Depth : 6.50
When you set up your first Autoship
It's easy, select Autoship at checkout!
Set your schedule
Change or cancel delivery schedule anytime
Enjoy extra savings 5% off of applicable products on each re-order after your 1st
*Discount automatically applied when Autoship is selected at checkout. No coupons necessary.
*By placing your order, you agree to Honestmed.com's Privacy Policy and Terms & Conditions.