McKesson Isopropyl Rubbing Alcohol, 70% Strength, 32 ounce Bottle, 1 Count, #23-D0024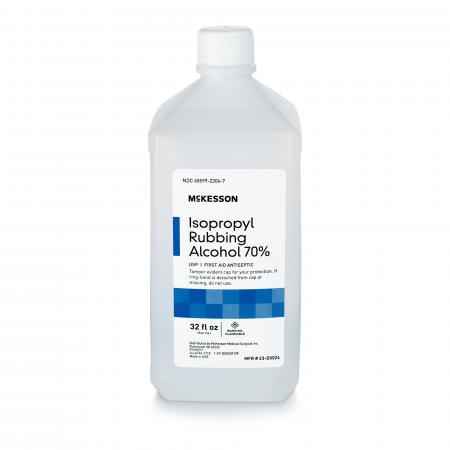 McKesson Isopropyl Rubbing Alcohol, 70% Strength, 32 ounce Bottle, 1 Count, #23-D0024
$6.44
Product Details
Features
Dimensions
Q&A
McKesson Isopropyl Rubbing Alcohol is a first aid antiseptic that helps prevent the risk of infection in minor cuts, scrapes, and burns, and it is also cooling and refreshing when used for rubbing and massaging the body.
UOM : EA
UPC : 680132862051
Active Ingredients : Isopropyl Alcohol
Application : Antiseptic
Container Type : Bottle
COO_1 : United States
Dosage Form : Topical Liquid
Latex Free Indicator : Not Made with Natural Rubber Latex
NDC Number : 68599230607
Product Dating : McKesson Acceptable Dating: we will ship >= 90 days
Size : 32 ounces
Strength : 70% Strength
UNSPSC Code : 51471901
Volume : 32 oz.
MPN: 23-D0024
SKU: 100912
Item ID: 100912
Weight : 2.00
Width : 3.30
Height : 3.30
Depth : 9.30
When you set up your first Autoship
It's easy, select Autoship at checkout!
Set your schedule
Change or cancel delivery schedule anytime
Enjoy extra savings 5% off of applicable products on each re-order after your 1st
*Discount automatically applied when Autoship is selected at checkout. No coupons necessary.
*By placing your order, you agree to Honestmed.com's Privacy Policy and Terms & Conditions.