MEDIHONEY Wound and Burn Dressing Paste, 100% Leptospermum Honey, 1.5 oz. Tube, Sterile, 1 Count, #31515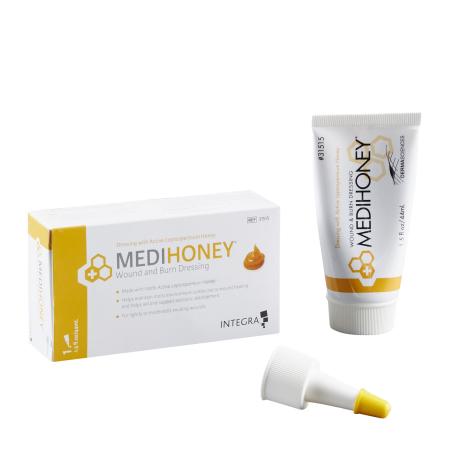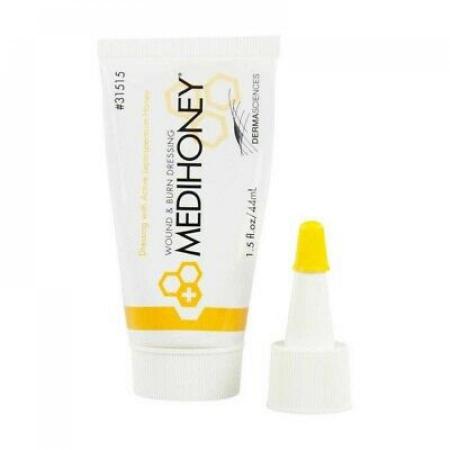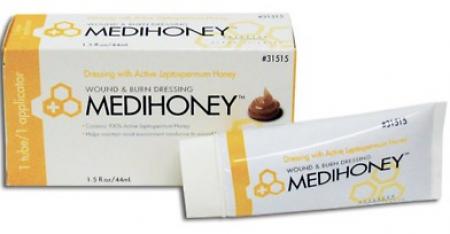 MEDIHONEY Wound and Burn Dressing Paste, 100% Leptospermum Honey, 1.5 oz. Tube, Sterile, 1 Count, #31515
$17.65
Product Details
Features
Dimensions
Q&A
MEDIHONEY Wound and Burn Dressing Paste can be used for wound bed preparation and through all phases of wound healing; it demonstrated efficacy from onset of a wound through to closure, and it cleanses and debrides due to its high osmolarity. This dressing paste also helps to lower the wound pH thus creating an optimal wound healing environment. MEDIHONEY is a medical-grade honey derived from the pollen and nectar of the Leptospermum species of plant in New Zealand and Australia. It is unique among all types of honey in that it maintains its effectiveness even in the presence of wound fluid.
UOM : EA
UPC : 0809958033616
Application : Wound and Burn Dressing
Container Type : Tube
HCPCS : A4649
Ingredients : Leptospermum Honey, 100%
Latex Free Indicator : Not Made with Natural Rubber Latex
Storage Requirements : USP Controlled Room Temperature
Type : Paste
UNSPSC Code : 42311513
Volume : 1.5 oz.
MPN: 31515
SKU: 100837
Item ID: 100837
Weight : 0.20
Width : 2.80
Height : 1.50
Depth : 5.00
When you set up your first Autoship
It's easy, select Autoship at checkout!
Set your schedule
Change or cancel delivery schedule anytime
Enjoy extra savings 5% off of applicable products on each re-order after your 1st
*Discount automatically applied when Autoship is selected at checkout. No coupons necessary.
*By placing your order, you agree to Honestmed.com's Privacy Policy and Terms & Conditions.