Dynarex Conforming Stretch Gauze Bandages, Polyester, 1-Ply, 3 Inches x 4.1 Yards, Roll Shape, White, Non-sterile, Latex-free, #3103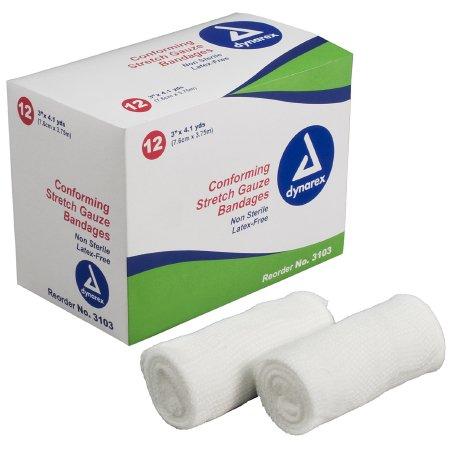 Dynarex Conforming Stretch Gauze Bandages, Polyester, 1-Ply, 3 Inches x 4.1 Yards, Roll Shape, White, Non-sterile, Latex-free, #3103
$2.09
Product Details
Features
Dimensions
Q&A
Dynarex Conforming Stretch Gauze Bandages feature a unique, knit construction that offers proper compression without constriction and allows them to conform to difficult body contours. These bandages are also self-adhering, so they stay in place with minimal taping.
UOM : BX
UPC : 616784310329
Application : Conforming Bandage
Color : White
COO_1 : China
Dimensions : 3 Inch X 4-1/10 Yard
HCPCS : A6449
Latex Free Indicator : Not Made with Natural Rubber Latex
Material : Polyester
Number per Pack : 12 per Pack
Ply : 1-Ply
Shape : Roll
Size : 3 Inches x 4.1 Yards
Sterility : NonSterile
UNSPSC Code : 42311503
MPN: 3103
SKU: 100307
Item ID: 100307
Weight : 0.20
Width : 5.20
Height : 3.80
Depth : 3.30
When you set up your first Autoship
It's easy, select Autoship at checkout!
Set your schedule
Change or cancel delivery schedule anytime
Enjoy extra savings 5% off of applicable products on each re-order after your 1st
*Discount automatically applied when Autoship is selected at checkout. No coupons necessary.
*By placing your order, you agree to Honestmed.com's Privacy Policy and Terms & Conditions.