McKesson Xeroform Petrolatum Dressing, Gauze, 3% Bismuth Tribromophenate, 5 x 9 In., Tan, Sterile, 200 Count, #2207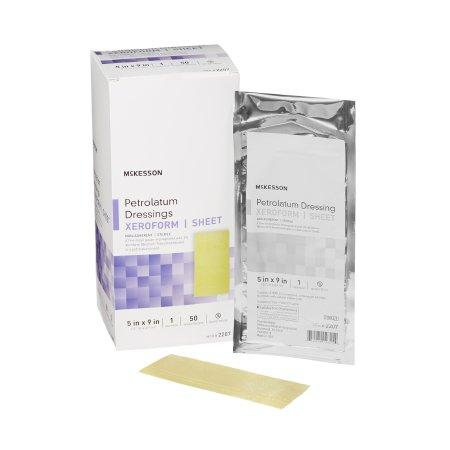 McKesson Xeroform Petrolatum Dressing, Gauze, 3% Bismuth Tribromophenate, 5 x 9 In., Tan, Sterile, 200 Count, #2207
$172.37
Product Details
Features
Dimensions
Q&A
McKesson Xeroform Petrolatum Dressing contains 3% Bismuth Tribromophenate to provide bacteriostatic properties and help to reduce risk of infection and deodorize the wound. It is a primary dressing for wounds with light or no exudate, and it helps maintain a moist wound healing environment to assist in autolytic debridement.
UOM : CS
UPC : 638632569451
Application : Xeroform Petrolatum Impregnated Dressing
Color : Tan
Dimensions : 5 X 9 Inch
HCPCS : A6223
Impregnated Ingredients : Bismuth Tribromophenate (Xeroform)
Material : Gauze
Shape : Rectangle
Size : 5 Inches x 9 Inches
Sterility : Sterile
Strength : 3% Strength
UNSPSC Code : 42311524
MPN: 2207
SKU: 100899
Item ID: 100899
Weight : 5.70
Width : 9.30
Height : 9.60
Depth : 10.10
When you set up your first Autoship
It's easy, select Autoship at checkout!
Set your schedule
Change or cancel delivery schedule anytime
Enjoy extra savings 5% off of applicable products on each re-order after your 1st
*Discount automatically applied when Autoship is selected at checkout. No coupons necessary.
*By placing your order, you agree to Honestmed.com's Privacy Policy and Terms & Conditions.